Volunteer Country Coordinators
The Love Foundation has been able to expand our reach around the world due to the volunteer efforts of our Country Coordinators. If you would like to volunteer for your country, or if you would like to contact any of these individuals, please use our contact form.
Peris Wakesho
Kenya Coordinator
Peris brings courage, dedication and a big heart to the people of her country. With a delightful blend of youthful leadership, awareness and creativity, she inspires and educates her culture along with the rest of humanity. A sincere supporter of TLF and the Global Love Day vision, she now joins us as the Deputy Coordinator for Kenya.

Magda Cermelli Qureshi
Italy Coordinator
Magda shares a love for all aspects of life. A global visionary, she is a former educator and world traveler, is fluent in several languages, a Reiki Master and a delighted grandmother of two.

Keyvan Sayar
France Coordinator
Keyvan presents a creative exuberance for the arts and all things cultural. A gifted, talented and amazingly aware individual, he is making an impressive impact with his numerous creative expressions in art, poetry, theater, radio, films and the internet - all with a profound interest in sharing love.

Wendi Losha Bernadette
Cameroon Coordinator
Wendi embodies the spirit of love for self, family, community and nation. She shares her heart-felt compassion with all she contacts while striving to bring comfort to so many in need. Her dedication to assisting others comes from a deep inner strength, self awareness and personal commitment to love.

Shiva Shrestha
Nepal Coordinator
Shiva is an active advocate for peace, human rights and sustainable development and is dedicated to assisting those in need. A family man, lawyer and visionary leader, he works ceaselessly to bring about positive and loving ideas and solutions for the many challenges people face both locally and abroad.

Shed I. Jah
Sierra Leone Coordinator
Shed shares a commitment to bring education and resources to the many in need throughout West Africa and beyond. Adept in business and economics, he uses his natural management talent to develop positive programs that bring about real and lasting change through love.

Sahro Ahmed Koshin
Somalia Coordinator
Sahro is a creative, outspoken and accomplished advocate for unity, love and compassion for all people. With roots in the African nations, she blends her diverse background and life understanding with a poignant and heartfelt desire to bring about true positive change. An inspirational poet, Sahro uses her gift to uplift and educate all she contacts. Enjoy reading her poetry blog here and her gender issues blog here.

Zuberi Mohamed Lusweka
South Africa Coordinator
Zuberi exemplifies the vision that love is the uniting factor in all things. Of Kenya birth, he now resides in South Africa where he is involved in the technology industry. Zuberi conveys a creative zeal and passion for life and enjoys assisting others by reminding them that through courage, determination, and love all things are possible.
Karim Al-Nadoury
Egypt Coordinator
Karim is a vibrant and youthful advocate for civic, social and environmental awareness. Multilingual and with a diverse talent for technology, he willingly shares his passion to all those he can assist. Environmentally he specializes in soil and water along with a natural gift for inspiring others to live life through love.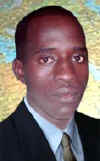 Ebrima S. Dem
Gambia Coordinator
Ebrima is a youthful visionary wishing to bring unification, love and peace to the people of his country. He naturally enjoys sharing, teaching and exchanging ideas along with bringing greater awareness to environmental and social issues.
D. Amalraj
India Coordinator
Amalraj has devoted his life to improving the lives of children and women in India especially related to the agricultural sectors. He shares his vision for love and equality by educating and improving the literacy of the disadvantaged. He is also the managing trustee of SOLAI Trust.

Pritesh Harivadan Shah
India Deputy Coordinator
Pritesh has a broad business management background coupled with keen understanding and ability to communicate insights for realizing a quality of life. A freelance consultant and trainer in the technology arena, he is equally versed in many yoga and meditation practices and is an advocate for bringing an awareness of unconditional love.

Roger Pholo Mvumbi
Democratic Republic of Congo Coordinator
Roger is committed to bringing universal love and peace to the people of his country. In service to a variety of social and NGO based efforts throughout his life, his compassion to help the less fortunate is evident.

Javier Arturo Marin Gomez
Costa Rica Coordinator
Javier is a gifted intuitive that recognizes the practical ideal of living life consciously through unconditional love. He is an artist in multiple media and shares his desire through many facets of his being to engage the unification of art, science and spirituality to promote the awareness of unity through peace and love.

Bishwanath Roy
Bangladesh Coordinator
Bishwanath is a dedicated educator and proactive, self motivated advocate for positive change. He enjoys teaching, singing, and bringing the vision of unconditional love to the people of his country.

Neabei Toah
Liberia Coordinator
Neabei has a genuine heart desire to bring about positive and expansive change to the people of his country and beyond. He understands the potential of embracing the diversity of the many groups while unifying his culture through unconditional love. He also has a special interest in assisting the youth.

Godwin N. Daniel
Mali Coordinator
Godwin is a dedicated young man with a big heart and authentic desire to bring greater awareness of peace and love to the people. He founded the association Global Palace and has worked with various organizations like Peace X Peace sharing his talent and wisdom. He endeavors to be an example of the vision of unconditional love.

Balakrishnan Muniandy
Malaysia Coordinator
Balakrishnan has a sincere desire and passion to bring greater love to the people of his community, country and beyond. A lifelong educator and lecturer with a PhD, he enjoys sharing his knowledge and talent of technology to encourage his students to become more aware.
Meenakshi Kantasamy (Smiley Meenu)
Malaysia Deputy Coordinator and Board Member
Smiley is a beautiful expression of love throughout her nation and far beyond. Since childhood, she has pursued a vision of compassion, caring, gratitude and kindness towards humanity and our earth. Schooled in America, she is a natural leader and consummate student of life itself and works ceaselessly to make this a better world for all.

Van Lal Renga
Myanmar Coordinator
Van has dedicated his life to family and theological service. A devoted father of eight, he has shared his love with ministries for several decades. An avid writer of over 30 books, Van enjoys bringing the wisdom and awareness of love to all those he connects with.
Maria Cristina Azcona
Argentina Coordinator
Maria is a global award winning poetess, novelist and an inspirational advocate for peace. Working with children and families as an educational psychologist, she has transformed her experiences into practical applications that can be found in her many wonderful bilingual writings as well as in her daily life. Her conscientious and heart-centered approach to life encourages us all.
Hugues Pierre N. Waka
Canada - Quebec Province Coordinator
Hugues (Hughes) is a true lover of love, enjoying helping humanity at all levels. A talented, dedicated educator and active researcher, he shares from his heart with all he meets and those he serves. He is fluent in French, Spanish and English, and uses his gifts as a communicator to bring joy and encouragement to others.
Liz Dietrich-Remeeus
Netherlands Coordinator
Liz loves life for its simplicity, noticing the small things, sharing and caring, and learning through experiences and cultural things. She is a real family woman, mother of 2 daughters, with a strong Dutch/Indonesian heritage. She loves helping others in daily life and is a big fan of TLF, Global Love Day, and also our Second Life virtual presence. Liz embodies "love begins with me," embraces diversity and cross cultural borders, has a compassionate heart for the First Nations & Indigenous Cultures and also the environment. She is also a Director on the TLF Board.

Kathryn Medico
Italy Coordinator
Kathryn is an inspired and inspiring author, journalist, and professional speaker with a big heart and love for humanity. Originally from Florida and now a world traveler, she has extensive experience in a wide variety of media and service professions. Always encouraging and ever helpful, her smile and delightful presence reflects her innate wisdom and embodiment of love.

Melanie DeMers
Canada - British Columbia Province Coordinator
Melanie is a creative and harmonious example of love with a deep connection to her own heart-center, as well as that of humanity. She serves with compassion and kindness and has a special affinity for the children of our world. Talented, professional, and fluent in French, English and Spanish, she joyfully conveys her keen insights with a multi-cultural awareness.

Richard Jakait
Uganda Coordinator
Richard is a heart-centered business and accounts executive that enjoys using his talent and knowledge to bring about sustainable change for the people of his country and beyond. He focuses much of his time and effort to assist in alleviating poverty and recognizes the value of empowering people at a fundamental level through love and compassion.
Waldemar Lorenz
Poland Coordinator
Waldemar is an advocate for multicultural interaction, especially in the realm of the arts. He holds a degree in photography and is the editor of a lifestyle portal for a wide variety of events and venues. He is also keenly inspired to bring about a greater recognition of tolerance and collaboration in society.

Yohannes Sebsibe
Ethiopia Coordinator
Yohannes is a bright and engaging young man that is dedicated to making the world a better place for all. Working within many community projects and education systems, he is enthusiastic for learning and applying his very best in every endeavor. He enjoys computers, photography, traveling, reading and educational research.

Neven Mehinagic
Bosnia and Herzegovina Coordinator
Neven enjoys sharing his love and positive energy through new media along with writing love-themed poetry, short stories and essays about ancient cultures. Versed and experienced in the nongovernmental sector with his main focus on cultural activities in the Balkans, Neven is also an international Web producer and IT manager.

Michael A. Riddell
Australia Coordinator
Michael is a cultural creative, artist, producer and writer filled with the vision of love. Founder of Global Village Creativity Centre in NSW, he oversees 12 global Creativity (Love in Action) Centers and has dedicated his life to bringing the awareness of humanity's potential through love and compassion.

Peter Jam (Jambazian)
Lebanon and Armenia Coordinator
Peter is passionate about peace and unity and shares his heart-felt message of love through music, art, writing and speech presentations. Profoundly aware of the challenges resulting from national and international conflict, Peter joyfully travels the world bringing his wisdom and compassion to all. www.peterjam.com

Leslie Bigelman
Spain Coordinator
Leslie is an enthusiastic and compassionate champion for love through her diverse creative, innovative and cultural expressions. An avid artist, yoga and art instructor, former officer and director of various boards, and an MBE award winning cultural representative, she has spent time in the US, Cayman Islands and now resides in Barcelona.

Karina Engelbrecht
Aruba Coordinator
Karina is inspired by all things love and enjoys helping others realize a more peaceful awareness. A mother of two, she is fluent in four languages, is experienced in the government sector, likes travel, meditation, nature, reading, collaborating, and spending quality time with her family.

Robby Manyepa
Zambia Country Coordinator
Robby is articulate, passionate and dedicated to making this a more empowered world for all. He applies his business management and technology skills to each endeavor and encourages the betterment of his fellow citizens of Zambia and beyond.
Annesa Leung
China Country Coordinator
Annesa brings her natural enthusiasm into every aspect of life. With a wealth of marketing and management experience, she has embarked on a new journey of sharing the vision of love with the world. Hailing from Hong Kong, she shares her passion and compassion through reiki, yoga, nature and of course, the love for her family, community and humanity.

Catherine G. Allon
Canada - Ontario Province Coordinator
Catherine has dedicated her life to serving and facilitating human development through loving self-awareness. A certified Kundalini Yoga teacher, trained in psychology, psychotherapy, and counseling, she brings a holistic and inspiring perspective to all she encounters.

Antoaneta Toncheva
Bulgaria and Slovenia Coordinator
Antoaneta is inspired by love and enjoys sharing her wisdom and creativity with youth and individuals with disabilities, as well as, adults. Gifted as a writer and talented in media and communications, she is active in cross-cultural experiences encouraging unity and love.
Theogene Tugengwanayo
Rwanda Coordinator
Theogene is an educator and teacher and enjoys inspiring and supporting others to find their talents. Encouraging language and curriculum development, he is a loving facilitator for humanitarian understanding and has been active in various global projects.

Olumide Oniyide
Nigeria Coordinator
Olumide is skilled in marketing, organization and business management. He enjoys travel and volunteering and desires to use his many talents to bring the wisdom of universal love to his community and nation.

Btissam Mssilea
Morocco Coordinator
Btissam is a vibrant and caring soul who knows the power of healing with love. Creator of Let's Meditate Together workshops as a place of no judgement, freedom, love and connection. Her studies explore the science of the human body along with the spiritual aspects through physiotherapy and Reiki. She can communicate in four languages, skilled at Thai massage, enjoys improvisational dance, poetry, and embroidery.

Veronika Danyi-Weber
Hungary Coordinator
Veronika has a passion for everything love. Dynamic, organized and inspiring, she enjoys sharing hew insights in writing, event planning and wedding ceremonies. Her kind, witty, and creative personality conveys the integrity and selflessness of love in every encounter and experience.
Kelvin Lloyd Leppard
Zimbabwe Coordinator
Kelvin Ls Leppard is a youthful example of determination to make a difference in his community and nation. He has a keen desire to share the vision of love with the people around him. He is an adaptable and ambitious person also proven experience in humanitarian development, and enjoys travel and reading.
Ben Whittam
United Kingdom Coordinator
Ben enjoys exploring and integrating the true nature of peace and love. His life journey has taken him into various fields of activity which allows him to expand his awareness and share his loving insights. He enjoys the outdoors and expressing his creative talents through different venues like photography, music, video, computers, cooking and crafts.

George Milne
Scotland Coordinator
George is an adventurous and loving spirit. Having walked a path of extremes at various times throughout his life, he knows by personal experience the presence and power of love. He is a dedicated and caring individual that understands the potential that flows through a compassionate heart.?

Tiago Oliveira
Brazil Coordinator
Tiagio has a brilliant enthusiasm for all things love. A talented writer, poet and engaging storyteller, he joyfully shares his insights with young and old. He encourages art from the heart and lives his journey of life encouraging the highest expressions of love with those around him.

Zia Ullah
Pakistan Coordinator
Zia brings a youthful enthusiasm and dedication to sharing love in his culture. Multi-lingual and with strong business and management skills, coupled with his desire to uplift, he brings his compassion into all his activities and with those he interacts with.

Sizwe Lungelo Hadebe
South Africa
Lungelo is passionate about people, especially in their ability to deal with change. As an enthusiastic researcher and consultant, his experience includes many projects that seek to bring about social, economic, and environmental sustainability along with humanizing workplaces through the creative application of diversity, equity, and inclusion.

Nicholas Owusu-Appiah
Ghana
Nicholas loves spreading the message of love to all areas of society. Trained in technology, he has strong organizational and training skills that blend his talents in a special way to practically assist others. He also shares his inspiration through public speaking and coaching.
---
If you are interested in volunteering, please contact us.